---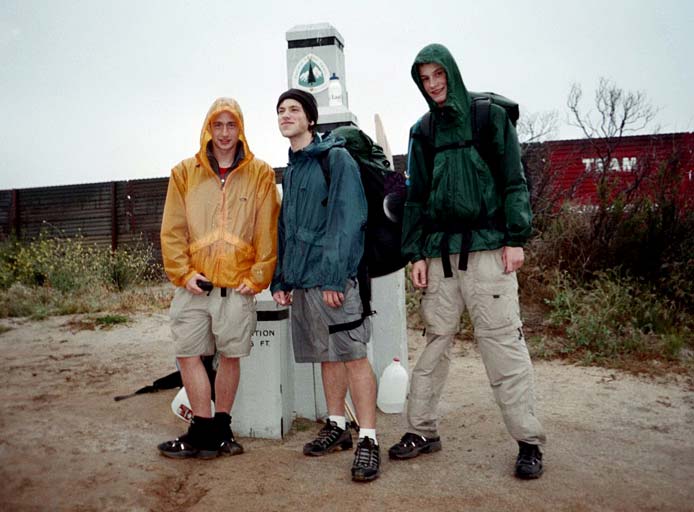 First day, May 7th, 2003. Campo, California. Mexico is behind the fence. It rained our first two days.


---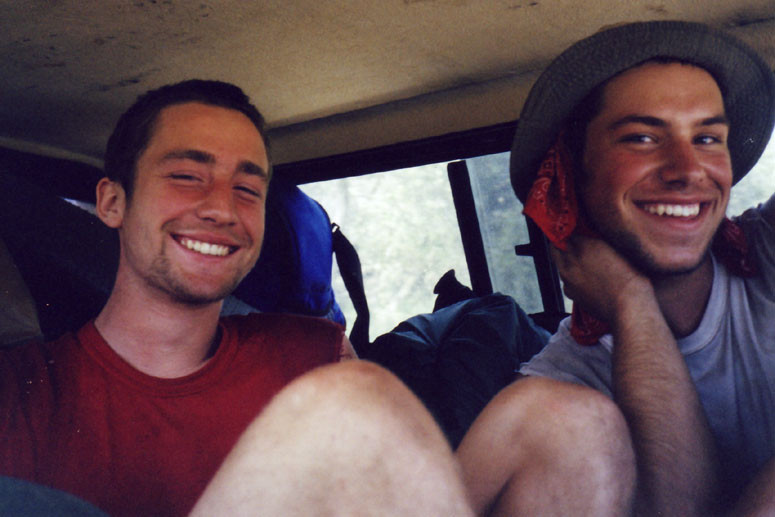 Big smiles from George and Noah on our very first hitchhike, headed for Idyllwild, California.


---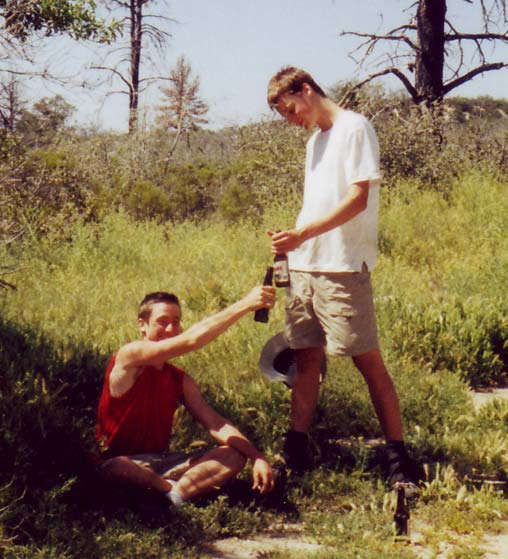 On our second hitchhike the driver gave us beer! George sitting, Pat standing.


---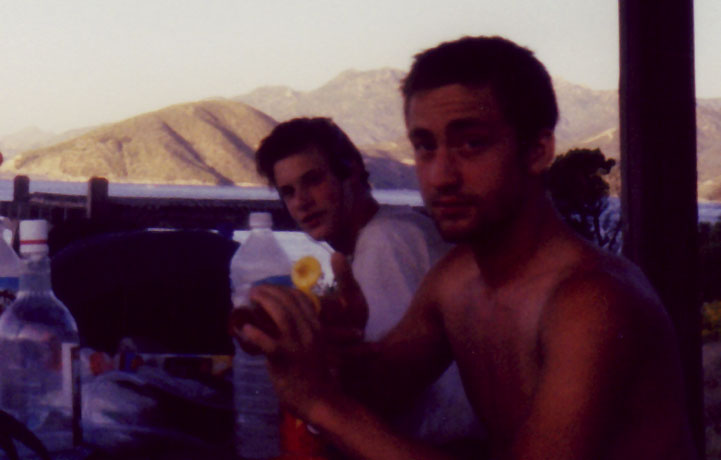 We only hiked one mile this day, Silverwood Lake was too nice and we were too hung over. Pat on left, George in front. We made up for it by hiking 29 miles the next day.


---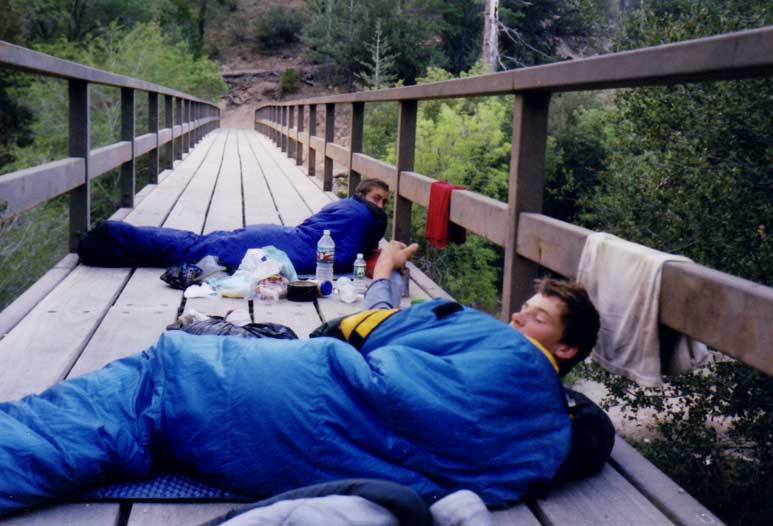 A very fine campsite on the bridge over Deep Creek. Pat up close, George in the back. Little did we know today would turn out to be one of our worst days in the desert.


---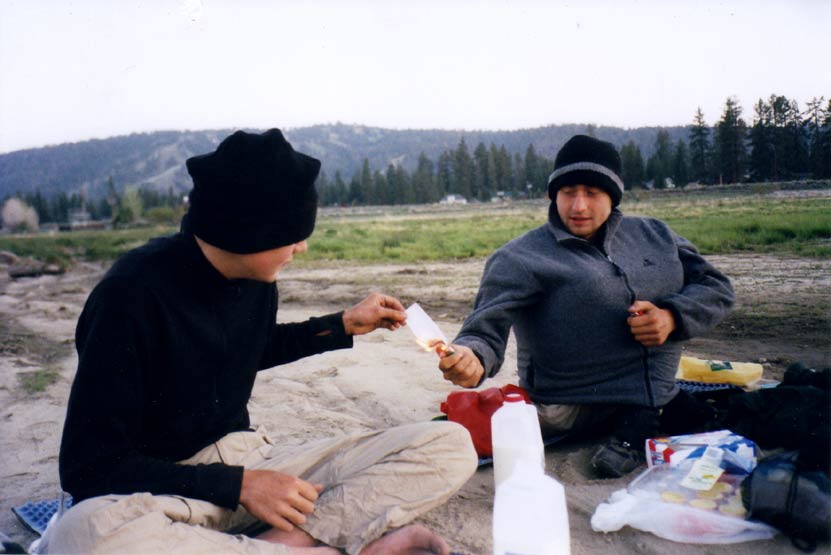 For the first few weeks we had a schedule that we couldnt keep up with. The only solution was to burn the schedule. Pat on the left, George with the bic.
Campsite on the shore of Big Bear Lake, in Big Bear, California. The famous Big Bear ski resort can be seen behind us.


---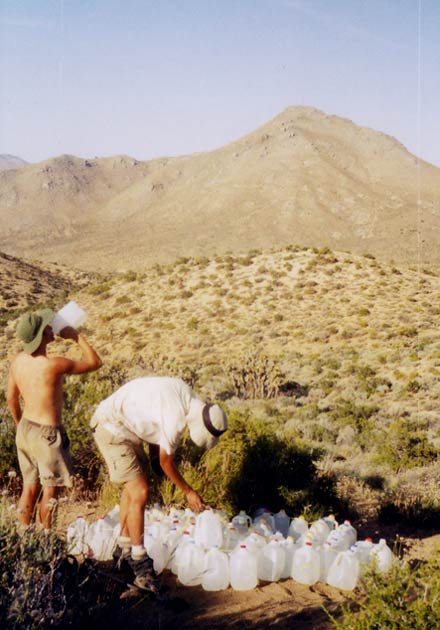 It's 100 degrees and no shade for miles. George drinking, Pat trying to untie a water jug.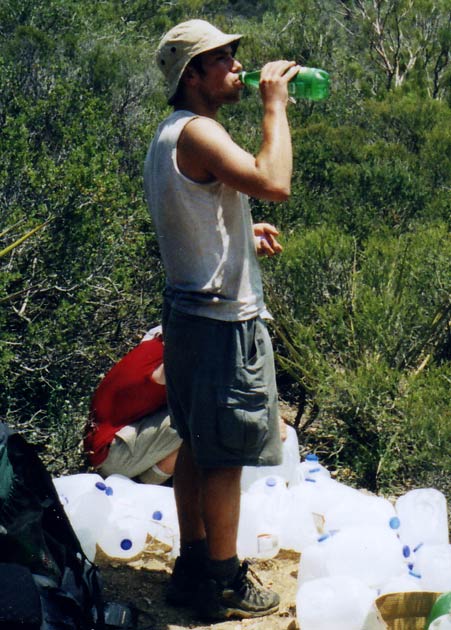 Noah at a water cache


The desert section of the PCT would not be possible without water caches. In long waterless stretches
"trail angels" (friendly locals) would stash water jugs along jeep roads in the desert, reducing a 60 mile
waterless stretch into two somewhat more managable 30 mile waterless stretches.


---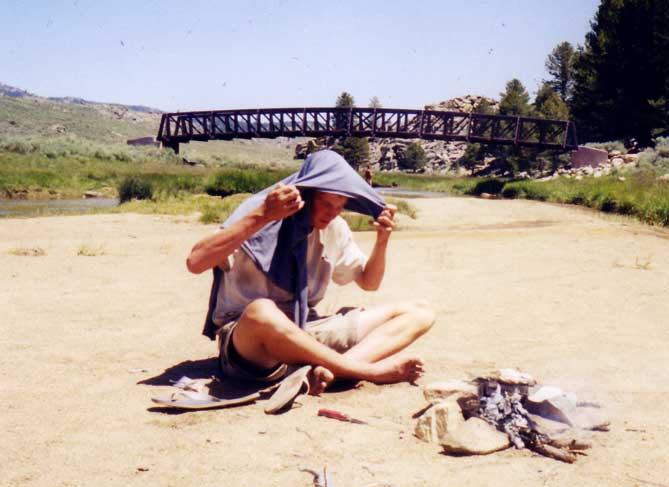 Pat hiding from the sun while a trout cooks on the fire. Noah is in the background fly fishing the south fork of the Kern River.


---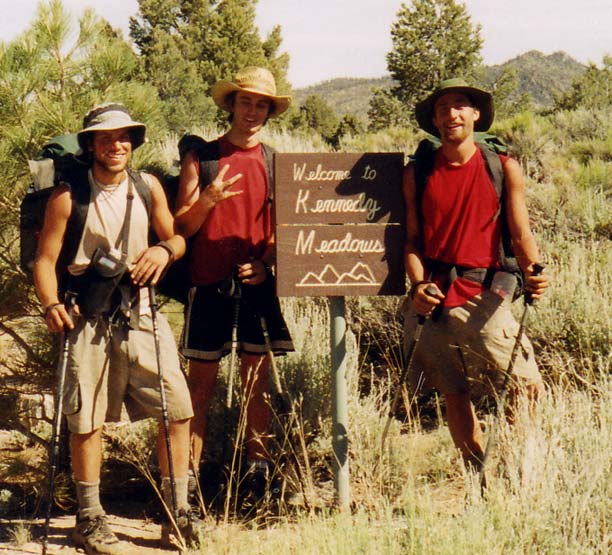 Kennedy Meadows marks the end of the desert section (first 700 miles) and the begining of the High Sierras. Left to right, Noah, Ben, George.


---


Pat standing at the highest point in the Continental United States, summit of Mount Whitney, California, 14,494 feet above sea level.


---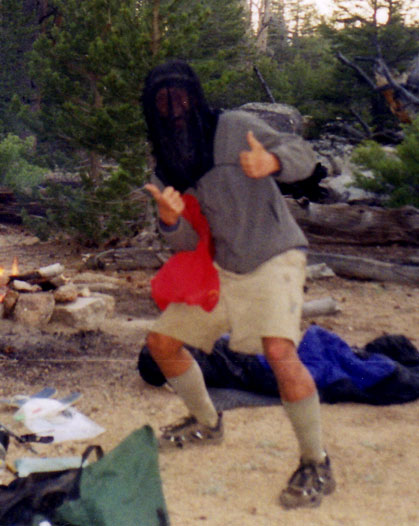 George likes his mosquito head net.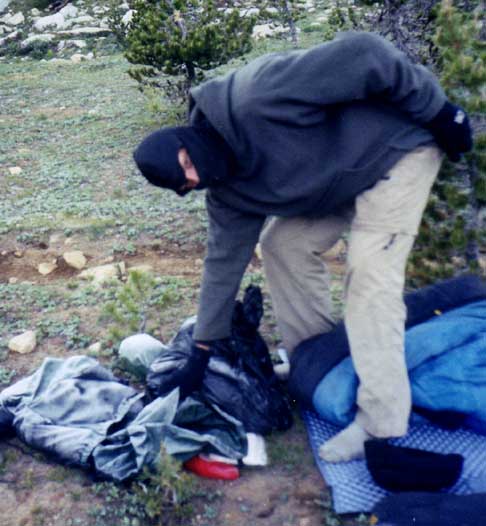 Pat on a very cold morning at 10,000 feet.
---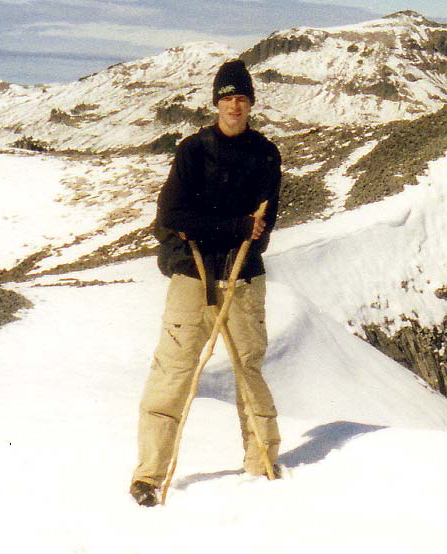 Pat in the Goat Rocks, Washington.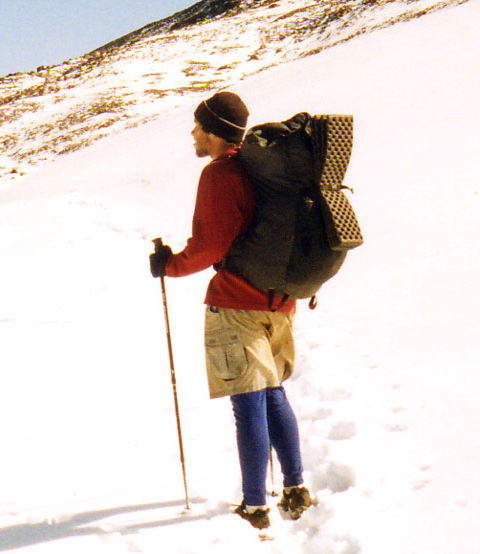 Noah on the Packwood Glacier in the Goat Rocks, Washington.
---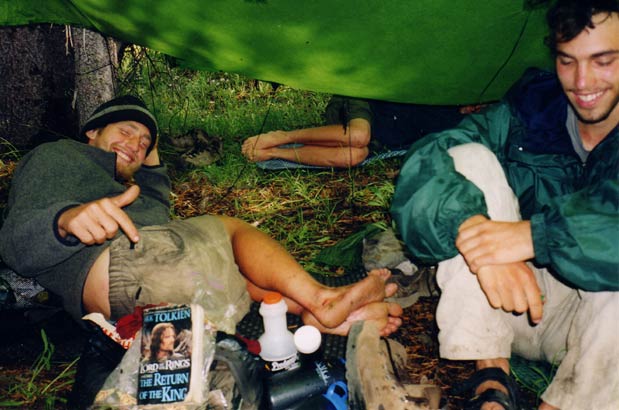 George and Moe under the tarp waiting for the rain to stop, Sam napping in the background.


---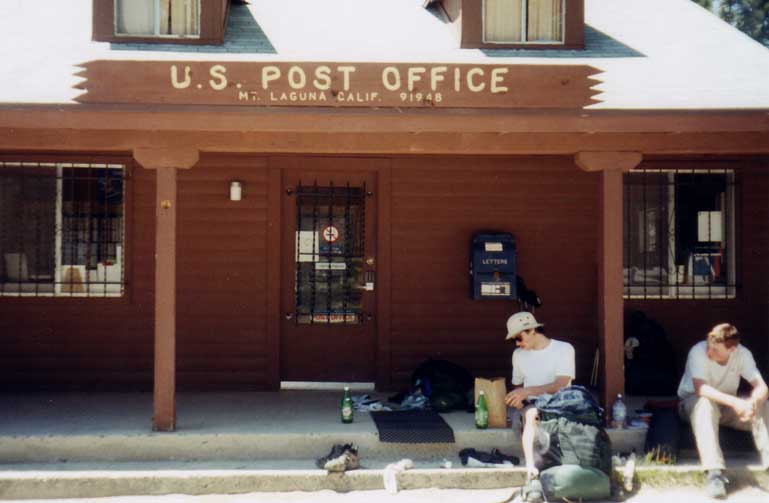 When we got to town we would usually spend all day sitting in front of the post office or grocery store.


---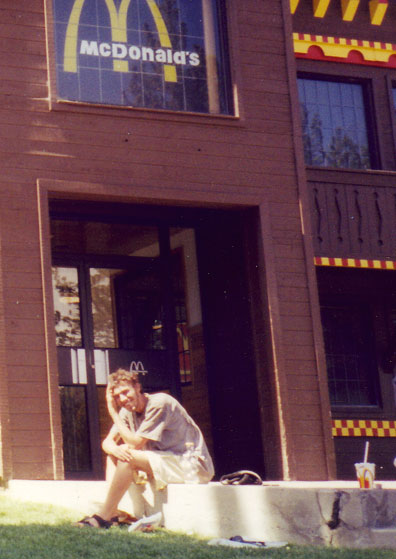 ...Or McDonalds. Moe in Mammoth, California.


---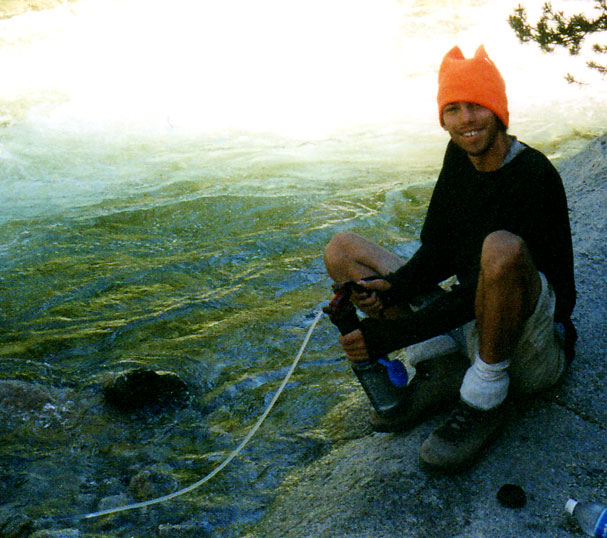 Moe filtering water at Woods Creek in the valley between Glen Pass and Pinchot Pass, High Sierras, California


---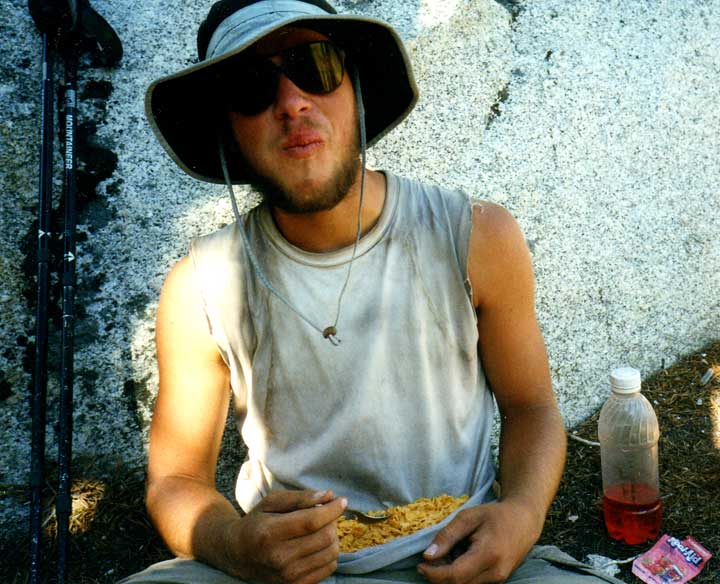 Nothing says thru hiker like eating a bowl of cereal out of your shirt.


---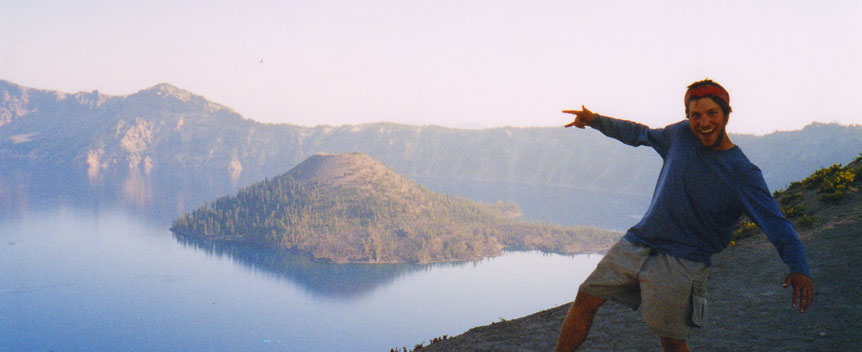 Noah gives a shout out to Crater Lake and Wizard Island.


---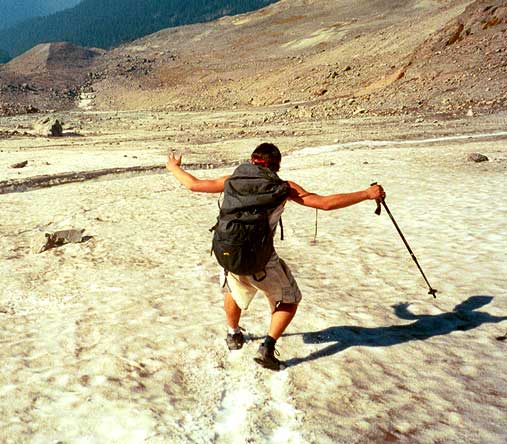 Noah skis down a glacier on Glacier Peak.


---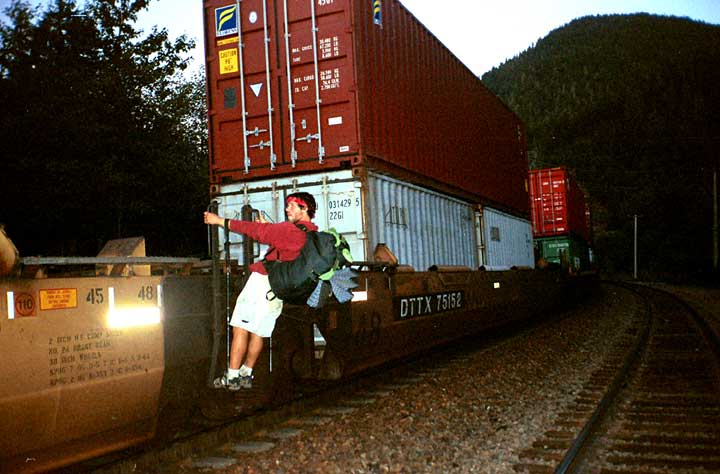 Screw hiking, lets ride this to Canada.


---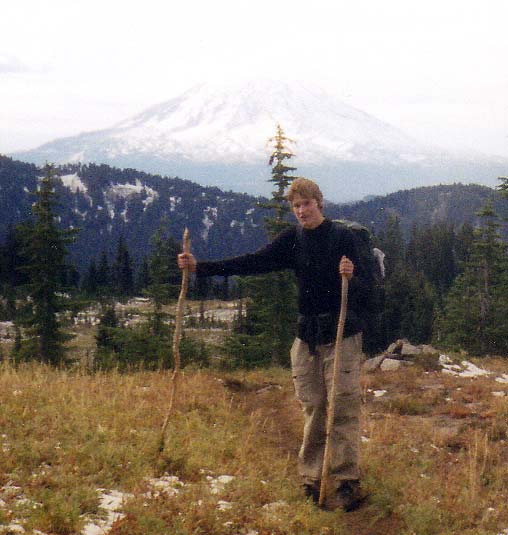 Pat and Mount Adams.


---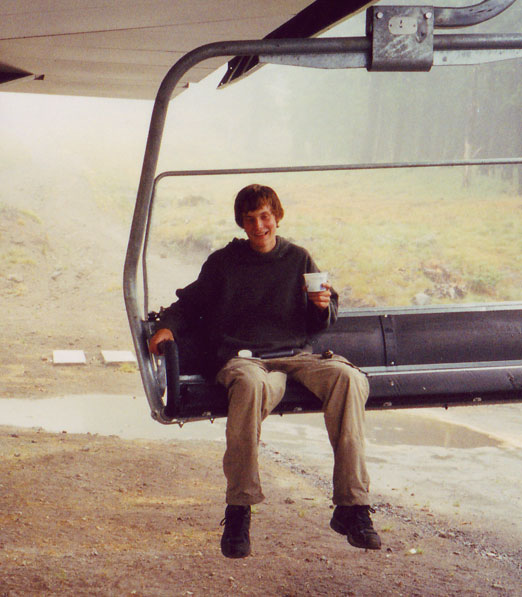 Ive never gone skiing out west but Ive sat on the Timberline Chairlift. Mt. Hood, Oregon.


---